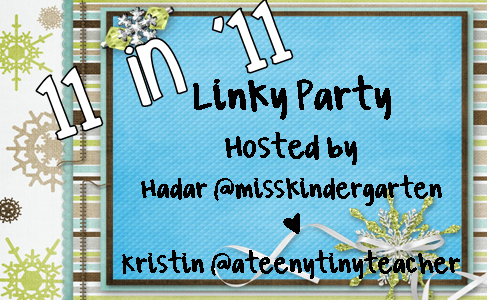 11. Favorite movie you watched
Captain America - I love any movie I can watch with my kids that's not animated. We all loved it and I loved that it was pretty much squeaky clean!
10. Favorite TV series
I have to agree with Kristen at teeny tiny teacher on this one. I love Parenthood. It's like riding an emotional roller coaster every Tuesday night. And boy do they have teenage girl characterization down...not that I would know because I have one that would give me a look like that or anything...just seems awfully realistic.
9. Favorite restaurant
Papouli's - They serve the best gyro you have ever had but come hungry because it is hu-uge. I try to get the hubs to share but he is just not a fan of that idea so... I have to eat it all because to do anything else would just be rude. Right?
8. Favorite new thing you tried
I think I need to join a twelve step program. Seriously. Check out my
boards
I'm sure you will find a fun project or two...or three...or more....
7. Favorite gift you received
Hands down the Silhouette Cameo. To make it even sweeter, since things are tight, it was purchased in large part with a gift card my hubby got for
HIS
birthday. So stinkin' sweet. I knew there was a good reason I married that man! I feel a new Pinterest board coming on...
6. Favorite thing you pinned
These are the pins that help me justify my addiction. Can I get an amen?
5. Favorite blog post
Well...since I am new at this and there are only a few to pick from I think I'll pick this one. It's like a really cool way to say hello and I love meeting new people!
4. Favorite accomplishment
Surviving a puppy's first year. Last year's Christmas surprise was the cutest puppy ever and with the exception of a few shoes and the toboggan that she currently has locked in her iron clad jaws, we have all survived.
3. Favorite picture
Summer camp with my kids. So.Much.Fun! GO RED TEAM! Girl on the right and boy on bottom right belong to me : )
2. Favorite memory
Borrowing a pop up camper, piling the family in the car, and camping our way up to Washington D.C. and back. So many memories! Yes there was a line all the way down the street for D.C. Cupcakes and yes we did stand in it. We might or might not have eaten all 12 cupcakes in one day.
1. Goal for 2012
Try to be an abiding women not a super woman (see favorite pin #6)
I'm so glad I was invited to the Linky Party! I'm excited about meeting some new bloggy friends!